Check out the fun dinner Larry King threw for his celeb friends. Then, check out my throw down to you and win a cool prize.

What's Larry King's doing in "retirement?"
Well, "The King" has a new gig.  He has celebrity friends over for dinner.  It's all to promote his new television show.  CNN Presents: A Larry King Special: Dinner with the Kings airs at 8 p.m. ET Sunday.
The first episode features Conan O'Brien, Tyra Banks, Shaquille O'Neal, Seth MacFarlane, Jack Dorsey, Quincy Jones, and Russell Brand.  (You don't recognize the name, "Jack Dorsey?"  He invented a little thing called "Twitter.")
Larry King and his wife Shawn asked celebrity chef Wolfgang Puck to assemble a five course meal and the cool guests supplied the fun and laughs.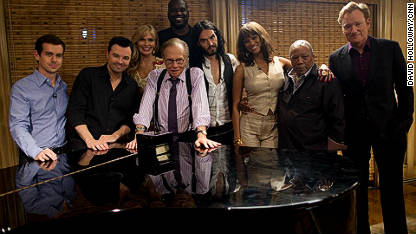 The first such dinner showcased Wolfgang's classics, including Spago's signature smoked salmon pizza with dill crème fraiche and caviar, mini burgers, sesame miso cones filled with spicy tuna tartare, and a whole wild king salmon the chefs filleted on-site in the Kings' kitchen.

Let's have our own celebrity dinner
Well, we can at least have fun making a guest list, right?
Plan a celebrity dinner for you, five famous people, and me.  Post the invitation list, the menu, and whatever else you think might impress me as a comment below or on one of my Facebook pages.
The most appealing guest list will get a copy of my 5 Cool Ideas book, 2nd edition and over-the-top kudos from yours truly.  Enter here or on my Facebook public figure page.

It's the thought that counts
Of course, this type of dream dinner will only be make believe, at least this time around.  But winner of this contest will win a cool prize and get some attention from me when I announce the results December 12 here and on my Facebook page.  Meanwhile, let's have some fun considering the guest lists that are submitted.
Thanks in advance for the invitation.  Good luck!